The High Peak Cricket Society is pleased to announce that 'The Geoffrey Woolley Junior Player of the Year Trophy', was awarded to Digby Evans.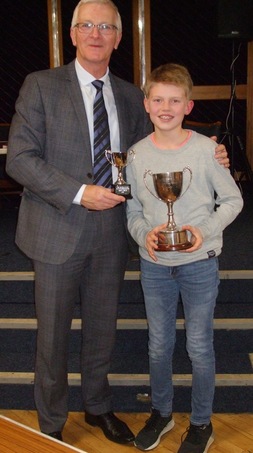 The photo shows Digby receiving the trophy from Guest Speaker, Greg Thomas.

A little more information on Digby from Russell Evans.

Digby scored 173 runs in the U11 D&CCL league at an average of 52, the highlight being an 18 ball 50 against New Mills. Itís the first time that Iíve witnessed a 50 at U11 level.
The batters are only allowed to bat in pairs for 4 overs!
He also helped the U11s win the semifinal and final of the U11 cup, taking a total of six wickets in the semi final and final, during his two over spells.
Digby also represented Hayfield CC U13 and U15 teams. His wicketkeeping was immaculate over the season. We had no need for the usual Ďback stopí fielding position.

He represented Derbyshire at U11 level and won the prestigious wicket keeping award at the Shrewsbury County Festival, where 8 counties come together to play against each other.
The wicket keeping award is voted for by the umpires during the festival. Digby took 3 catches and 2 stumpings. Itís unusual for batters to be caught behind at U11s level.
Digby has secured his place in the U12 Derbyshire squad for the 2019 season.

Heís received some excellent coaching from Ian Durham and more recently with SEAMs cricket, run by AJ Harris. AJ delivers excellent, relevant coaching and should be supported by the High Peak. Diggers has a great attitude and has shown real maturity both on and off the field.
---



2017 winner was Jacob Noakes
2016 winner was Caleb Winfield
2015 winner was George Holden
2014 winner was George Dyson
2013 winner was Alice Dyson
2012 winner was Matthew Sonczak
2011 winner was Cameron Ball
2010 winner was Will Freeman
2009 winner was Chris Durham
2008 winner was Matt Higginbottom
2007 winner was Lydia Slack
2006 winner was Matt Higginbottom
2005 winner was Josh Unsworth
2004 winner was Chris Durham
2003 winner was Matthew Kennedy
2002 winner was Matthew Ratcliffe
---
Copyright © 2003-2017 High Peak Cricket Society and CricketArchive