The High Peak Cricket Society is pleased to announce that 'The Geoffrey Woolley Trophy', sponsored by 'owzat-cricket' was awarded to Cameron Ball.
The photo shows Cameron receiving the trophy from former Yorkshire CCC cricketer, Kevin Sharp.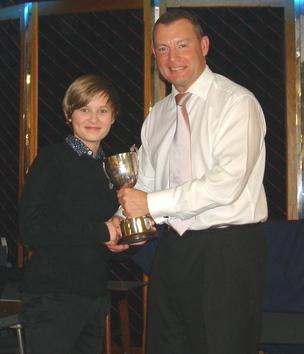 Cameron is the 4th generation of the Ball family to represent Hadfield St Andrews CC. He probably had little choice but to have a go at cricket. Cameron started to play from a very early age in the garden with his father and older brother and was able to bat and bowl by the age of 3.
He first played for Hadfield's under 11's in a cup final when he was 6 due to players being on holiday. He batted for 4 overs and was not out. He also bowled 2 overs for 1 run taking an outstanding catch which most 11 year olds would have left.
He represented Derbyshire aged 8 for the under 10's and was made captain the following year. For Hadfield last year he took a hat-trick in the U16's play off game in the final over when Woodley required just 6 to win and in spell for the second team last year produced figures of 5 overs 5 maidens taking 3 wickets.
He is looking forward to a full season in Hadfield's 2nd team and also playing again for Derbyshire U13's.
[January 2012]
---
2010 winner was Will Freeman
2009 winner was Chris Durham
2008 winner was Matt Higginbottom
2007 winner was Lydia Slack
2006 winner was Matt Higginbottom
2005 winner was Josh Unsworth
2004 winner was Chris Durham
2003 winner was Matthew Kennedy
2002 winner was Matthew Ratcliffe
---
Copyright © 2003-2017 High Peak Cricket Society and CricketArchive