The High Peak Cricket Society's Award to Junior Cricketer of the Year for 2009 was awarded to Chris Durham.
The photo shows Chris receiving the trophy from former Derbyshire CCC cricketer, Brian Jackson.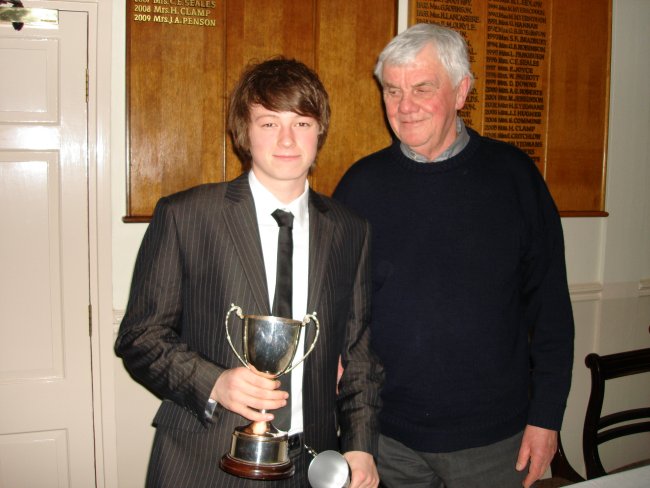 The High Peak Cricket Society is pleased to announce that 'The Geoffrey Woolley Trophy', sponsored by 'owzat-cricket' was awarded once again to Chris Durham.
Since first winning the Trophy in 2004, Chris continues to develop as a wicket-keeper/batsman in the Derbyshire Cricket Board Mini Academy, performing well enough for the Derbyshire Under14's to be selected for the Midlands in the festival at Loughborough. He became a first team regular at Chapel-en-le Frith CC. In 2007 Chris was again selected for the Midlands, playing in the prestigious Bunbury Festival in Hull. With a batting average of 38.4 for the Derbyshire Under 15's in a very sodden, rain affected season, Chris was selected for the Derbyshire CCC Academy and is now in his third year, an achievement in itself as rigorous standards must be upheld every year if the students are to remain in the Academy. In Derbyshire age group cricket, Chris scored over 1,500 runs including 3 hundreds. Last year Chris was given the experience of some Derbyshire 2nd X1 cricket and performed really well with the gloves. He hopes he will be given further opportunities next season, and if all goes well, a contract next year. In order to develop further, Chris left Chapel CC in 2008 and has had two seasons playing for Cheadle Hulme in the Cheshire County League. Last year he topped the league wicket keeping table with 18 catches and 15 stumpings and scored 405 runs. He represented the County League on three occasions.
[February 2010]
---
2008 winner was Matt Higginbottom
2007 winner was Lydia Slack
2006 winner was Matt Higginbottom
2005 winner was Josh Unsworth
2004 winner was Chris Durham
2003 winner was Matthew Kennedy
2002 winner was Matthew Ratcliffe
---
Copyright © 2003-2017 High Peak Cricket Society and CricketArchive