The High Peak Cricket Society's Award to Junior Cricketer of the Year for 2008 was awarded to Matt Higginbottom.
The photo shows Matt receiving the trophy from former Middlesex cricketer, Mike Selvey.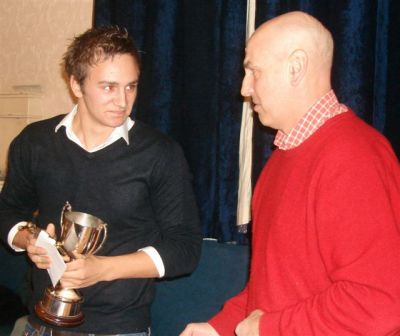 The High Peak Cricket Society is pleased to announce that 'The Geoffrey Woolley Trophy' has been awarded to Matt Higginbottom from Hayfield Cricket Club.
It is a unique occasion as the recipient this year previously won the trophy in 2006. Quite an achievement. Along with the trophy, Matt also receives a £50 voucher for sports equipment that has been kindly donated again by Andy Mitchell.
Matt is a left hand bat and a right arm pace bowler and this last season 2008 was his last as a junior. Despite still being a junior he was a regular with the Hayfield first team. He batted at No. 3 scoring 365 runs at an average of 30.4 with a top score of 101no. With the ball he took 21 wickets at 17.7. He was a regular for Derbyshire under 19 and finished top of their bowling averages and was second in the batting averages. He was selected for the Derbyshire 2nd XI in September for their three day Championship match against Warwickshire but unfortunately not for the first time last summer the game was abandoned without a ball being bowled. However with the kind of form I have just described the day will not be far away when Matt will be able to make his 2nd XI debut followed hopefully by a successful career with the County.
[January 2009]
---
2007 winner was Lydia Slack
2006 winner was Matt Higginbottom
2005 winner was Josh Unsworth
2004 winner was Chris Durham
2003 winner was Matthew Kennedy
2002 winner was Matthew Ratcliffe
---
Copyright © 2003-2017 High Peak Cricket Society and CricketArchive