The High Peak Cricket Society is pleased to announce that 'The Geoffrey Woolley Trophy', sponsored by 'owzat-cricket' was awarded to Will Freeman.
The photo shows Will receiving the trophy from Lucy Pearson.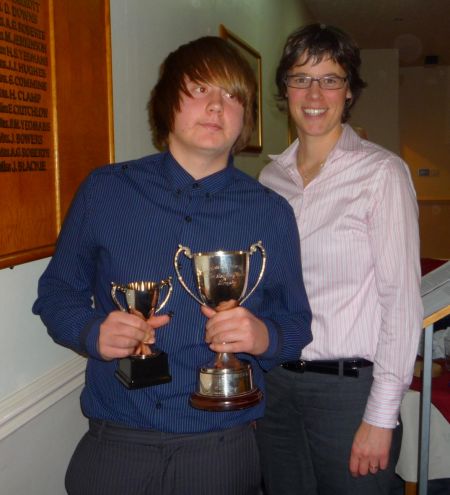 Will is a right hand, top order batsman & right arm off spin bowler. He has played for Birch Vale & Thornsett Cricket since being an under 11. He progressed through the age groups and made his 2nd X1 senior debut at Compstall in 2008 taking a wicket in his first over of off spin.
At the age of 14 he became a regular member of the 2nd XI in 2009 and also made his debut in the 1st X1.
However, it was the season 2010 when Will made big strides. He was a member of the all conquering High Peak District under 15's team who beat all the other 6 Derbyshire District teams.
For his club side (Birch Vale) he scored 800 runs including a 50 in the under 16's Cup Competition, 2 x 50's in the 2nd XI and a 110 (his maiden century) in the 2nd X1 Cup Competition. He just failed to register 50 wickets (49) in all competitions with his right arm off spin.
A great future beckons for Will in the game. He has a tremendous attitude and a maturity beyond his years.
[January 2011]
---
2009 winner was Chris Durham
2008 winner was Matt Higginbottom
2007 winner was Lydia Slack
2006 winner was Matt Higginbottom
2005 winner was Josh Unsworth
2004 winner was Chris Durham
2003 winner was Matthew Kennedy
2002 winner was Matthew Ratcliffe
---
Copyright © 2003-2017 High Peak Cricket Society and CricketArchive