The High Peak Cricket Society's Award to Junior Cricketer of the Year for 2006 has been awarded to Matt Higginbottom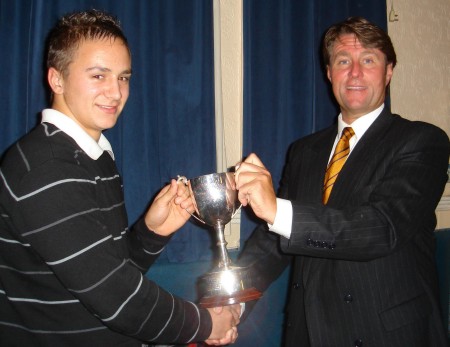 The High Peak Cricket Society is pleased to announce that 'The Geoffrey Woolley Trophy. has been awarded to Matt Higginbottom from Hayfield Cricket Club.

Matt started 2006 as an under 15 Junior in Hayfield's Second Eleven. A Derbyshire trial saw Matt selected for the Derbyshire under 15s where he had a successful season with both bat and ball.

The 2006 season saw Matt progress in both the under 15 and under 17 sides, culminating in an explosive 90 against Stockport in the under 15s Trophy.

Matt.s potential was further recognised with his promotion to Hayfield First Eleven. The Village Trophy brought out a hard hit 73 against Old Glossop; followed by a half century in the midst of falling wickets, in the Bissenden Cup against Dove Holes.

The League appearances added three more half centuries against Stockport, Newton 86 and Chapel 99 in the memorable tied game.

Matt finished the season as an opening bowler with 30 wickets including a 5-wicket haul.

Selected for the League, Matt was not out of his depth, as he opened the bowling and scored a match winning 43 against the Southport and District League.

Matt.s 2006 season was rounded off with an invitation to the Derbyshire County Academy.
---