David Cadwallader, was awarded the Norman Harris Trophy for 2018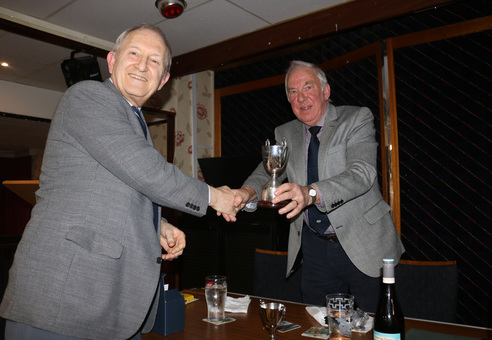 The High Peak Cricket Society is pleased to announce that its Service to Cricket Award for 2018, 'The Norman Harris Trophy', has been awarded to David Cadwallader. The trophy was presented to David by former Yorkshire and England cricketer, Geoff Cope.

David's first recollection of cricket was being taken to the Mumbles cricket ground in Swansea when visiting some Welsh relatives around 1952. At that time, the family lived on a remote farm, three miles from the nearest village. When electricity came in 1953, they acquired a television which meant he could watch test cricket on black & white television. Having no nearby playmates, he devised a form of one-boy cricket using a small bat and a golf ball. He would bowl onto the barn wall left handed and then play the rebound with the bat carried in the right hand, the wickets being the cow shed door. Hence at the age of six, He learned ball sense.

In 1958, they moved to Whaley Bridge village and he started at New Mills Grammar School. By 1960, he had become a member of the NMGS under 15's XI and WBCC under 17's XI being a lower order batsman and a left arm medium pacer or occasional leg break bowler. He was a small child but put on a spurt of growth at 16 and was awarded his 1st XI colours at NMGS, where he was a teammate of Bud Hill. In the next two seasons, he also represented the Derbyshire & Cheshire League Junior XI and had also graduated to WBCC 1st XI achieving the team's highest score of the season at Hazel Grove.

He was cricket mad and played for anybody who would have him at every opportunity. He even turned out for local rivals, Buxworth, in the High Peak League, when Bud Hill was a man short. After school, he began work in Stockport where they had an office team playing midweek 20 over evening matches, the favourite one being against Robinson's Brewery, with inevitable consequences. His office manager played for Dukinfield in the Lancs and Cheshire League and roped him in to "guest" for them on Sundays when Whaley had no game. But his first love was always Whaley, with his village friends.

He became a 1st XI regular and as older players retired was given more bowling and batting to do, and a place in the slips where his hands were stung taking nicks off Albert Goddard and then Tim Arnfield. He was a member of the 1977 Bissenden Trophy winning side. By 1985, he had become 1st XI skipper and when Jack Bond of Lancashire fame took the Jodrell Arms pub, he was swift to enrol him in the side. Jack helped to take runners-up spot in Division One and the following year, 1986, to capture the Bissenden Trophy, which was repeated in 1987. David remembers being presented with the trophy by Jim Laker.

The 1990's were tumultuous years at Whaley Bridge. David had become Chairman on the sad and premature demise of Ian Wild. Then the Pavilion burned down. It was patched up and Whaley carried on, although it was then only half its former size. The local farmer, from who they rented the ground, told the club that the lease would not be renewed, so they had to find a new place to play. The club made the decision to raise money, buy land and create a new ground of their own. David's task was to apply for grants, raise funds, find land, get planning permission and keep the club's determination, enthusiasm and interest levels high, as this would not be an overnight project. Fortunately, he was surrounded by likeminded colleagues and a committee capable of infinite work. For several years, he organised 60's Nights at the Buxton Opera House. Groups such as Gerry and the Pacemakers, the Searchers, Freddie and the Dreamers, Herman's Hermits, Dave Berry, and many more came to play to full houses and in the process raised over £20,000.

After a shoulder injury in 1990, he stepped down to the 2nd XI and concentrated more on batting, re-discovering some forgotten skills. It went rather well and he became a regular contributor of decent scores, with several 50s and then going on to get several centuries, seven in all, including a hot spell of three in four games in 1997. In a game against Woodley, he shared with Russell Wild, the then record opening stand of 215 for the "A" Division. In 1998, at the age of 51, he was called upon as an emergency bowler when others were injured or missing. In a match against Hawk Green he picked up 8-26 and thus enlivened, went on the win the 2nd Division bowling averages. He retired in 1999 after a calf injury but was persuaded to remain on stand-by in the event of cry-offs. Thus, it happened that he continued to make occasional appearances on the pitch right up to present. In 2016, he even played for the first team (at 69). In 2017, in a 2nd XI match, he was allowed a brief bowl as a 70th birthday treat and claimed 2 wickets.

In 1998, he was kicked upstairs and was appointed as President of WBCC. It was to be another five years before the club was offered a suitable piece of land and then the challenge was to obtain Planning Consent. After a long battle, the application was approved, enabling the club to begin work. For his work for the club, David was endowed with Honorary Life Membership.

The new ground and pavilion were inaugurated in April 2006. Since then, the club has added a tackle shed, score box, all-weather nets as well as acquiring a new mower, sight screens and covers and a bowling machine, with David still involved in obtaining grants and raising funds.

David has been a tireless worker and devoted a great deal of his time to Whaley Bridge CC. The Society is pleased to have this opportunity to thank him for his 'Services to Cricket' and present him with the 'Norman Harris Trophy'.
---
Dave Baron was awarded the Norman Harris Trophy for 2017. Bernard Hill was awarded the Norman Harris Trophy for 2016. Harold Rhodes and Brian Jackson were jointly awarded the Norman Harris Trophy for 2015. Harry Whitney was awarded the Norman Harris Trophy for 2014. John Goddard was awarded the Norman Harris Trophy for 2013. John Northover was awarded the Norman Harris Trophy for 2012. Stuart Garside was awarded the Norman Harris Trophy for 2011. Alan Burgoyne was awarded the Norman Harris Trophy for 2010. David Waterhouse was awarded the Norman Harris Trophy for 2009. Jeff Holdgate was awarded the Norman Harris Trophy for 2008. Whaley Bridge CC was awarded the Norman Harris Trophy for 2007. Bob Morten was awarded the Norman Harris Trophy for 2006. David Millner was awarded the Norman Harris Trophy for 2005.
Ernest Dyer was awarded the Norman Harris Trophy for 2004.
Alan Johnson was awarded the Norman Harris Trophy for 2003.