The High Peak Cricket Society is pleased to announce that its Service to Cricket Award for 2008, 'The Norman Harris Trophy', was awarded to Jeff Holdgate.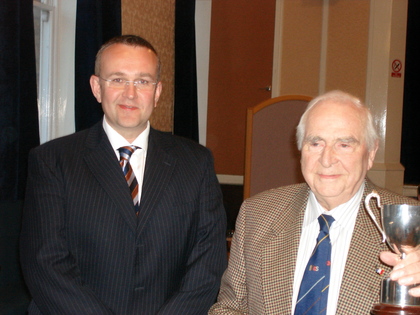 Jeff has always been a keen sportsman. He played lacrosse in the winter for Disley LC, Cheshire Schools at both Junior and Senior level and represented North of England and then in the summer he switched to cricket.

He played for High Lane Cricket Club from 1933-1949, (apart from 6 years during the war), mainly because his brother told him that he wouldn't be good enough to get into the New Mills 1st XI. However, Jeff did prove his brother wrong and moved to New Mills Cricket Club in 1950 and in that year was part of the team that won the A division of the High Peak League. He played mainly 1st XI cricket and was a member of the team that won the league for three consecutive years 1953-1955. He captained the side in 1961 when once again they were crowned League Champions.

He became a member of New Mills Cricket Club Committee in the early 1960's, and served as Chairman for a number of years.

Jeff's contributions off the field are there for all to see at New Mills Cricket Ground. The ground is owned by a limited company of which Jeff was Chairman for 46 years and still is a director.

During that time he negotiated with the Education Authority for the Grammar School to use the cricket ground and tennis courts because their own playing fields were being used to extend the building. This eventually led to the Education Authority refurbishing the tennis courts; with a little friendly persuasion from Jeff.

His first major development on the cricket side was to install indoor toilets in 1977. The biggest task he undertook was the extension of the pavilion. He had to raise money from local and county councils and also local businesses to stand any chance of getting a lottery grant which would enable the building project to go ahead.

This involved a lot of hard work for Jeff and all committee members concerned at that time.

Unfortunately, just as the lottery application was about to be submitted, Jeff suffered a cardiac arrest and had to take things easy for a while. Fortunately Ray Kirby and Andrew Morton were on hand to see the venture through.

Jeff has many happy memories from his playing days, he truly loves the game of cricket but he is equally as proud of his work off the field. He readily praises his colleagues who helped him achieve so much at New Mills Cricket Club.

Jeff has been a Society member for many years and the Society is delighted that this award will be presented to one of its most loyal and longest serving members.
---