John Goddard, was awarded the Norman Harris Trophy for 2013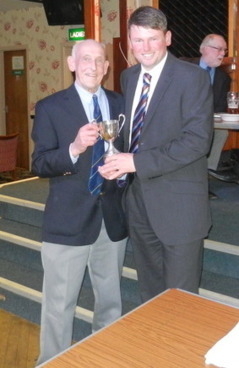 The High Peak Cricket Society is pleased to announce that its Service to Cricket Award for 2013, 'The Norman Harris Trophy', has been awarded to John Goddard. The photo shows John receiving the trophy from Derbyshire CCC bowling coach, AJ Harris, pictured on the right.

John was born in the 1930's at Bugsworth's famous 'Gnat Hole', the youngest son of John and Nellie Goddard.

We are informed that he was a studious lad who attended the infamous 'Gnat Hole Academy' where, apart from acquiring academic skills, he began to hone his widely renowned cricket ability in a team made up of boys and girls as there were not enough boys to make up a team, in fact on the closure of the school in 1947 there were just eleven pupils.

On leaving school in 1947 John started work at Cliff Potts joinery in Chapel-en-le-Frith, the beginning of a long and accomplished career in joinery.

Eventually he courted and married his lovely wife, Norma and they have two beautiful daughters, Suzanne and Clare.

His cricketing career at Whaley Bridge started in the mid 1940's when he was asked to play under a false name as, being under age, he wasn't registered. This was probably the start of the leagues infamous policy of issuing fines, to which Whaley Bridge have so generously contributed over the years.

John was of course preceded at Whaley by his father John and brothers Albert and Bill. With a pedigree like that, success was inevitable, and so it proved. Actually, brother Albert also made his debut for Whaley under a false name, being named as one Dennis Barnes. Brother Bill restricted himself mainly to administrative duties. He was for many years, probably the best player's secretary the club ever had. In those days, a Friday night cry off meant a five mile bike ride for Bill as very few of the cricketers had phones.

And so John continued his illustrious career with Whaley, his exploits being too varied and numerous to catalogue. Suffice it to say that besides being a superb bowler, with a bowling action to die for, he also became an accomplished higher order batsman and athletic fielder. In short, he was the complete cricketer.

Of course, nobody at Whaley got away with simply playing cricket, particularly in those days and John's skills as a joiner and 'Jack of all Trades' were soon put to good use. The late Ian Wild had a favourite saying "If you want to be sure of a job being done, give it to a busy man". Well John Goddard was our permanently 'busy man' and he never let us down.

He has the unique distinction of playing in every decade from his teens to his seventies and I mean playing, not just making up the numbers.

He has been a hard working and loyal parishioner at Bugsworth's Brierley Green Methodist Church for more years than people care to remember.

To conclude, John Goddard is certainly the man of this and many other seasons, long may it continue.

P.S. By the way John, there are some slates loose on the Pavilion when you have a moment.

P.P.S. We've got a Coffee Morning in September, don't forget.

Thanks to Les Dyer for this article.
---
John Northover was awarded the Norman Harris Trophy for 2012. Stuart Garside was awarded the Norman Harris Trophy for 2011. Alan Burgoyne was awarded the Norman Harris Trophy for 2010. David Waterhouse was awarded the Norman Harris Trophy for 2009. Jeff Holdgate was awarded the Norman Harris Trophy for 2008. Whaley Bridge CC was awarded the Norman Harris Trophy for 2007. Bob Morten was awarded the Norman Harris Trophy for 2006. David Millner was awarded the Norman Harris Trophy for 2005.
Ernest Dyer was awarded the Norman Harris Trophy for 2004.
Alan Johnson was awarded the Norman Harris Trophy for 2003.