Harry Whitney, was awarded the Norman Harris Trophy for 2014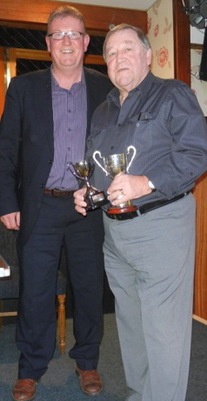 The High Peak Cricket Society is pleased to announce that its Service to Cricket Award for 2014, 'The Norman Harris Trophy', has been awarded to Harry Whitney. The trophy was presented to Harry by former Derbyshire CCC wicketkeeper, Chris Marples, pictured on the left.

Harry was surprised to realise that 2014 marked quite a milestone in his cricketing life. He had served on the committee of Stockport Georgians CC for 13 years and now this is his 37th consecutive year as a Committee Member and Vice-Chairman of Charlesworth and Chisworth CC. A grand total of 50 years.

Harry's cricketing career started when he was selected for Stockport Boys in the early 1950's, going on to make the Lancashire U.15's squad and featuring in what was the top game at that level in those days - South Lancashire Boys versus North Lancashire Boys at Old Trafford. Later that season he was taken to East Levenshulme CC by his father's best friend, Bill Jones, who was the professional at the club. Some of you may remember Bill from his cricketing days at Stockport CC and Marple CC. Harry will be the first to acknowledge that Bill's advice in this period was a great learning curve in his cricket life. Harry made his 1st XI debut at the tender age of 15 years and 10 months.

At the age of 18 came a 4 year gap from local cricket with 2 years National Service in the RAF followed by 2 years at Chester Teacher Training College. He started teaching in Stockport in 1959, was married to Marion in 1960 - they're still together after 54 years despite him vanishing every Saturday and Sunday for either football or cricket. A year later Harry and Marion moved to Woodsmoor to a house almost backing on to Stockport Georgians ground and so began a very happy 15 years with the club - 13 of which were spent on the club committee. Harry and Keith Shawcross still hold the club's record batting partnership when scoring 191 in 1975 against Woodhouses CC. During this time cricket was not the only sport in which Harry was involved. He played local football and in 1963 was offered the post of Team Manager for Stockport Boys - a post he held until leaving teaching in 1976.

Harry and Marion took over the tenancy of the George and Dragon in Charlesworth in December 1976 and remained there for 18 long and happy years until retiring in 1994. This was quite a career change but not totally unexpected. Harry's parents had taken over The Hunters in Chisworth in 1967 and eventually five of the six Whitney brothers held tenancies with F Robinson Ltd.

Within three months Harry had been co-opted onto the committee of Charlesworth & Chisworth CC and has stayed there for 37 years. In this time he has played for the 1st and 2nd XI sides. As 2nd XI Captain, he registered one of Charlesworth & Chisworth's major successes when winning the Glossop & District League 2nd XI Championship for five consecutive years from 1981 to 1985. He started the '250 Club' in 1982 and ran it for 23 years. It is still going today and in 31 years has raised in excess of £35,000 for club funds. He started ball sponsorship in 1979 and is still doing it today bringing in over £500 each season. He looked after the area beyond the cricket boundary for 35 years as well as being groundsman and looking after the square for 10 years.

He has also run junior teams through the years and been responsible for the club's newsletter which is delivered to every house in Charlesworth and Chisworth. Today, he shares with Alan Burgoyne, the responsibility of cleaning the toilets, dressing rooms and outside areas of their new pavilion.

In 1997 on retiring from league cricket, Harry became an umpire in the Glossop League joining the DCCL in 2000 when two leagues amalgamated. He has umpired in one Rose Bowl Final in the Glossop League and has had the honour of standing in three Bissenden Cup Finals. As well as his league umpiring duties Harry has stood in the middle for many local clubs in their Cheshire, Derbyshire and National Village Cup competitions. He has also been umpire over the past years in many Derbyshire games at youth level. Finally, Harry has helped the club's junior managers by standing as umpire at U.13, U.15 and U.17 levels. Quite a work load to say the least but it certainly shows why Harry is considered a legend at Charlesworth & Chisworth Cricket Club.
---
John Goddard was awarded the Norman Harris Trophy for 2013. John Northover was awarded the Norman Harris Trophy for 2012. Stuart Garside was awarded the Norman Harris Trophy for 2011. Alan Burgoyne was awarded the Norman Harris Trophy for 2010. David Waterhouse was awarded the Norman Harris Trophy for 2009. Jeff Holdgate was awarded the Norman Harris Trophy for 2008. Whaley Bridge CC was awarded the Norman Harris Trophy for 2007. Bob Morten was awarded the Norman Harris Trophy for 2006. David Millner was awarded the Norman Harris Trophy for 2005.
Ernest Dyer was awarded the Norman Harris Trophy for 2004.
Alan Johnson was awarded the Norman Harris Trophy for 2003.