Harold Rhodes and Brian Jackson, were jointly awarded the Norman Harris Trophy for 2015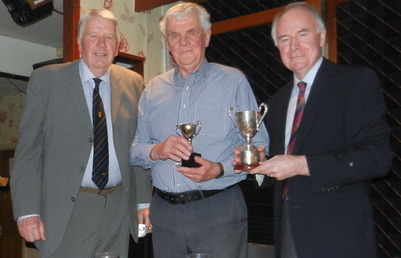 The High Peak Cricket Society is pleased to announce that its Service to Cricket Award for 2015, 'The Norman Harris Trophy', has been jointly awarded to Harold Rhodes (Pictured left) and Brian Jackson (Pictured centre) and was presented to them by Peter Gibbs (Pictured right).

In 2014 Derbyshire CCC reported that paceman Mark Footitt had become the County's most successful bowler in a season for almost 50 years with his final total of 106 wickets. The record referred to the year of 1965 when our celebrants Harold Rhodes (119 wickets at 11.04) and Brian Jackson (120 wickets at 12.42) were first and second in the County Bowling Averages.

Today we honour their achievements and look back on an impressive set of statistics. Rather than just a list of (repetitive) 5 for's - here is a small look behind what made up those details – and more importantly – who were their contemporaries and who came into the crosshairs of their devastating accuracy.

Firstly a picture of the season as it was in those days. 28 x 3 day matches were played by the 17 Counties (12 Counties twice and 4 Counties once). Points were awarded for wins – or with points for a 1st innings lead in either drawn or lost games – but no batting or bowling points! Derbyshire's final position was 9th with 7 wins, 9 "losses" and 12 "other" results giving a total of 86 points. The results may have been better if it wasn't for a disappointing batting season where only 2 tons were recorded – both to Ian Hall in one match at Folkestone! Although they were more than ably supported by Bob Taylor who was top wicket keeper with 86 victims.

However with our hero's firing on all cylinders, as stated, they topped the League Table and from their lofty height they were able to look down on such "occasional" bowlers in descending order as – Brian Statham, Tom Cartwright, Fred Trueman, Jack Flavell, David Larter, Don Shepherd and Jeff Jones plus such others as Derek Shackleton and Ray Illingworth – so you can see they weren't exactly "slouches" at their job!

And who were the victims en route to their totals? In Harold's case it included Basil D'Olivera, Ron Headley, MJK Smith, Micky Stewart, Harry Pilling and Noddy Pullar. While Brian claimed John Edrich, Trevor Bailey, Barry Knight, Geoffrey Boycott and David Green and Brian Bolus (both twice in one match). In addition common victims were Dennis Amiss, Alan Jones, Mike Brearley and Tom Graveney – all in all a list of crème de la crème batsmen!

As mentioned to list all the stats would be too repetitive – but records throw up other small items of interest including – the "reward" for beating the South Africans was – a bottle of sherry per man (South African of course).

Against Sussex at Hove both teams were asked to sign a series of autographs. Brian signed "Jackson" and when asked why said – "well that Sussex guy signed Pataudi" – Captain Derek Morgan retorted "Yes - but he's a prince ! – now go back and add AB".

Numerous stories abound, as undoubtedly Peter Gibbs, as well as members John Eyre (who played that season) and David Millner can enlighten us, but I trust you will have had a small insight into what, for our guests, was a very successful season.

Many thanks to Geoff Needham for this article.
---
Harry Whitney was awarded the Norman Harris Trophy for 2014. John Goddard was awarded the Norman Harris Trophy for 2013. John Northover was awarded the Norman Harris Trophy for 2012. Stuart Garside was awarded the Norman Harris Trophy for 2011. Alan Burgoyne was awarded the Norman Harris Trophy for 2010. David Waterhouse was awarded the Norman Harris Trophy for 2009. Jeff Holdgate was awarded the Norman Harris Trophy for 2008. Whaley Bridge CC was awarded the Norman Harris Trophy for 2007. Bob Morten was awarded the Norman Harris Trophy for 2006. David Millner was awarded the Norman Harris Trophy for 2005.
Ernest Dyer was awarded the Norman Harris Trophy for 2004.
Alan Johnson was awarded the Norman Harris Trophy for 2003.