ALAN JOHNSON RECEIVES THE SERVICE TO CRICKET AWARD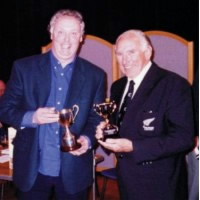 The photograph shows The High Peak Cricket Society's Service to Cricket Award, 'The Norman Harris Trophy', being presented to Alan Johnson by John Reid

The following article on Alan has been compiled by Peter Smith, Chairman of Buxworth Cricket Club

Alan joined Buxworth Cricket Club as a 13 year old when the Club was a member of the now defunct High Peak Cricket League. As a junior Alan played for the 1st XI and was selected to play for the league team whilst still a junior, a feat only achieved by a select few. He went on to represent the league on numerous other occasions as a senior player.

Alan left the Club for a short spell in the early 1970's when he played for Chapel-en-le-Frith who were in the Derbyshire and Cheshire League. During his time there he was an integral part of a successful 1st XI winning both the League Championship and Bissenden Cup.

The call from Buxworth (who had now joined the Derbyshire and Cheshire League) remained strong and he duly returned in 1978 to captain the side for several seasons. Affectionately known throughout the league as 'Johno', he has been a mainstay of the 1st XI for over a quarter of a century.

Although the Club were to be unsuccessful in the pursuit of trophies until winning the division 2 championship in 2002, Johno was to have many personal triumphs, notably winning the Derbyshire and Cheshire League batting averages.

It is not only in his cricketing achievements where Johno has been such a great asset to Buxworth Cricket Club. Upon returning to the Club in 1978 he immediately became non-playing Junior Captain, a job he still does today with such dedication and enthusiasm. It is worth remembering that in 1975 there was only one junior team, whereas now with the escalation of junior cricket there are four and he is involved with all of them. Having passed his coaching exams in 1999 Johno also spends every Tuesday evening during the summer at junior practice helping all those who want to better themselves at the game he loves.

It is probably fair to say that Johno is hardly anywhere else in the summer months. The excellent condition of the wicket, which tends to be a batsman's paradise, and the outfield are testament to the tremendous amount of time and energy Johno spends on the ground as the Club's main groundsman.

We at Buxworth are proud and privileged to have him. In fact if every club had a 'Johno' village cricket would flourish and prosper for many years to come.