The High Peak Cricket Society's Service to Cricket Award for 2006, The Norman Harris Trophy, was awarded to Bob Morten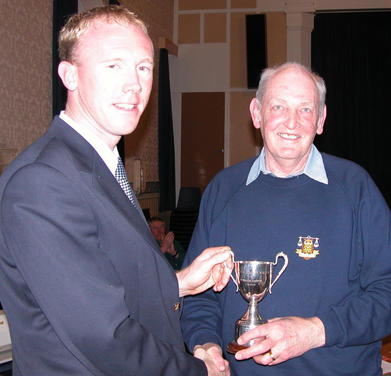 Bob's cricketing career started in August 1952 when he was drafted in from the scorebox to play for Whaley Bridge's 2nd XI at Romiley.

The more traditional route was followed for the next couple of years as Bob played for Whaley's Under 17's and was a member of the side that won the South Division of the Derbyshire and Cheshire League in 1959 before losing to Romiley in the play off final at New Mills.

Subsequently, Bob became a regular in Whaley's senior sides and after being appointed 2nd team captain in 1973, he lead his team to the Championship - The Crossmoor Cup - in 1975. He also took a great deal of interest in the Club's junior sides and was non playing captain of the Under 17's for a number of years.

A free transfer "over the hill" occurred in 1978 and Bob joined Hadfield St Andrews who were then playing in the Glossop and District League. He enjoyed a successful time at Hadfield not only as a member of League and Cup winning sides for both 1st and 2nd XI's but also on a personal level as he won the 2nd XI batting averages 1985.

Bob's affinity to Hadfield grew and he undertook a number of roles within the Club - 17 years as junior non playing captain, Club Trustee for 16 years, Vice-Chairman for 14. This outstanding service led to the honour of him being appointed a Life Member in 1997.

As his playing career came to an end in the early 1990's, he joined the Stockport branch of the Association of Cricket Umpires. He successfully progressed through various courses, written and oral exams, two years of "on the field" experience and daily finger strengthening exercises to become a full member in January 1995.

During his time as an umpire in the Glossop and District League from 1992-99 and the Derbyshire and Cheshire Cricket League from 2000 , Bob has stood in senior finals (Rhodes Bowl, Hawke Trophy), junior finals (Compstall Cup, Medlock Cup) and various inter League representative matches.

He currently officiates in the Derbyshire and Cheshire League Divisions 1 and 2 and when time allows The Saddleworth and District League, The Mellor Braggins League and The Cheshire Trophy as well as assisting his son Ian with the running of Hadfield's Under 17's.

Since his retirement from teaching, Bob also stands for The Derbyshire Cricket Board in their midweek fixtures involving teams ranging from under 11's to over 50's.

I'm sure that you will agree that Bob continues the tradition of thoroughly deserved winners of the Norman Harris Trophy.
---